NOW OPEN WED-SAT, 11 AM-4 PM
Barbara Clevenger Johnson Gallery
Morton's Barbara Clevenger Johnson Gallery proudly displays the wealth of creativity and talent found among our local artists. Discover a diverse collection of artwork, from paintings and jewelry to pottery and sculpture.  The gallery is open Wednesday-Saturday, 11 a.m. – 4 p.m.
Nestled in the Cascade foothills of Morton, Washington, the gallery first opened its doors May 1, 2007, as part of the newly renovated Roxy Theater. This exciting endeavor was made possible through the vision and hard work of the Fire Mountain Arts Council and many generous donors, including benefactor Ladd Johnson in memory of his wife, Barbara Clevenger Johnson.
Are you interested in displaying your artwork in the gallery? Please contact the Gallery via the e-mail or phone number listed below. We welcome new area artists to feature in our gallery!
Featured Artist: CJ Elsip
C J Elsip is an internationally emerging, versatile fine artist of over 30 years experience. She earned her BA Hons in Fine Art from Leeds University and has works featured in many private and corporate collections around the world. C J now lives and works from her studio in Randle Washington.
After suffering a nasty car accident and near death experience several years ago, her art became crucial to her healing, recovery and self-development process. Art is now her passion and vocation  and she enjoys sharing it with others. Her subjects range from landscape through abstract. The intent is to connect and express the spiritual essence of underlying creative forces. She uses light and color to create dynamic tensions in her stunning paintings.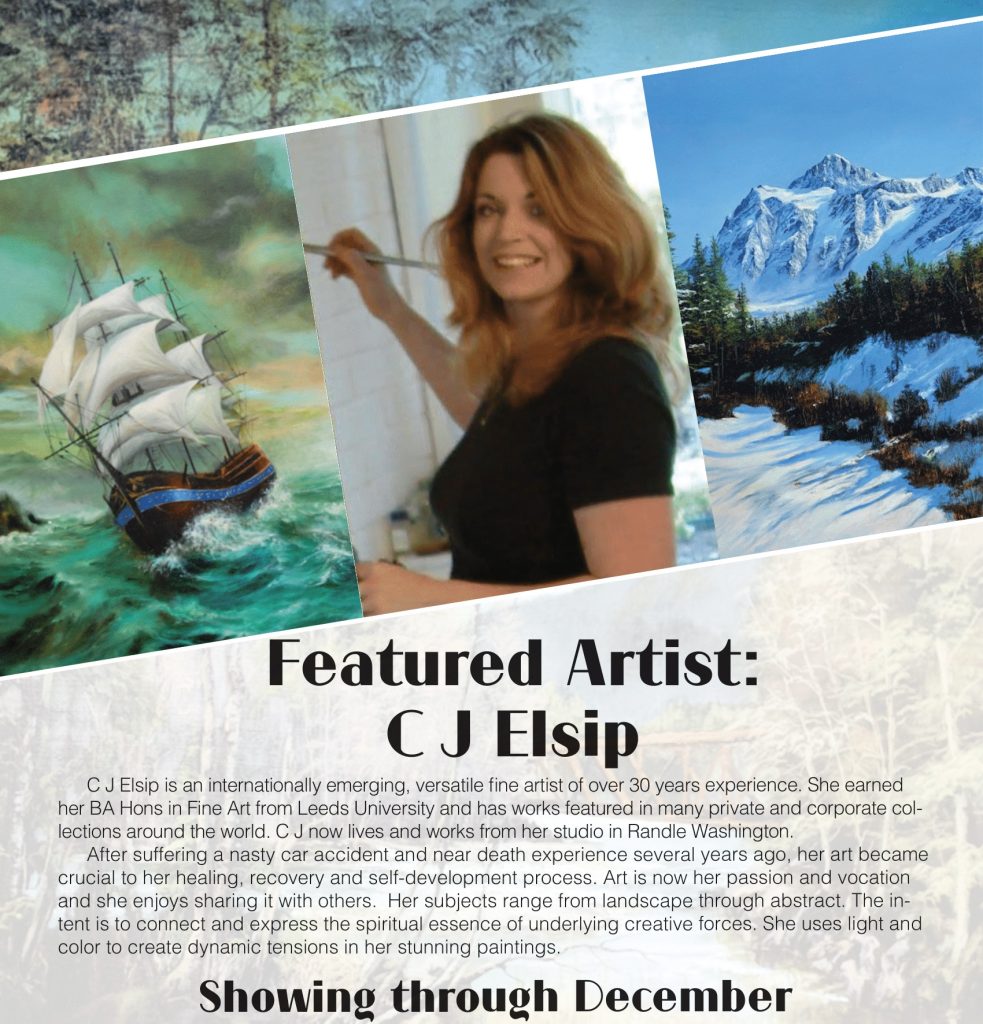 About Barbara Clevenger Johnson
Barbara Clevenger was born May 6, 1932 and lived the first 18 years of her life in Mineral, Washington. Shortly after graduating as valedictorian from Morton High School in 1950, she married her high school sweetheart, Ladd Johnson. The two moved to Chico, California, in 1951 to attend college. Completing first a bachelor's degree in liberal arts and then a master of arts in education degree from Chico State College, Barbara eventually went on to earn a doctorate at UCLA in 1970.
A born teacher, Barbara touched the lives of countless students and instructors in the many classrooms she presided over, from her first-grade students at Chico Elementary to the education students at Chico State where she taught from 1960 to 1995. During her tenure at CSU, Barbara also served as Chair of the Education Department, Director of Credentials and Student Teaching, Director of Liberal Studies, and Director of the Intercultural Center.
Although Barbara did not begin painting until after she retired, her artistic talent was soon as obvious as her teaching skills had been. Focusing on scenes from life and nature, her works capture the simple beauty and joy that she saw everywhere in life.
The gallery is located next to the Roxy Theater in downtown Morton and is often open during live Roxy Theater performances. Plan to come by before your next visit to the theater. Regular hours are Wednesday through Saturday, 11 a.m. to 4 p.m. Group tours of the Gallery and Roxy Theater are always welcomed. Please call to make arrangements. The gallery also provides information to tourists in collaboration with the Morton Visitors Center near the historic railroad depot.